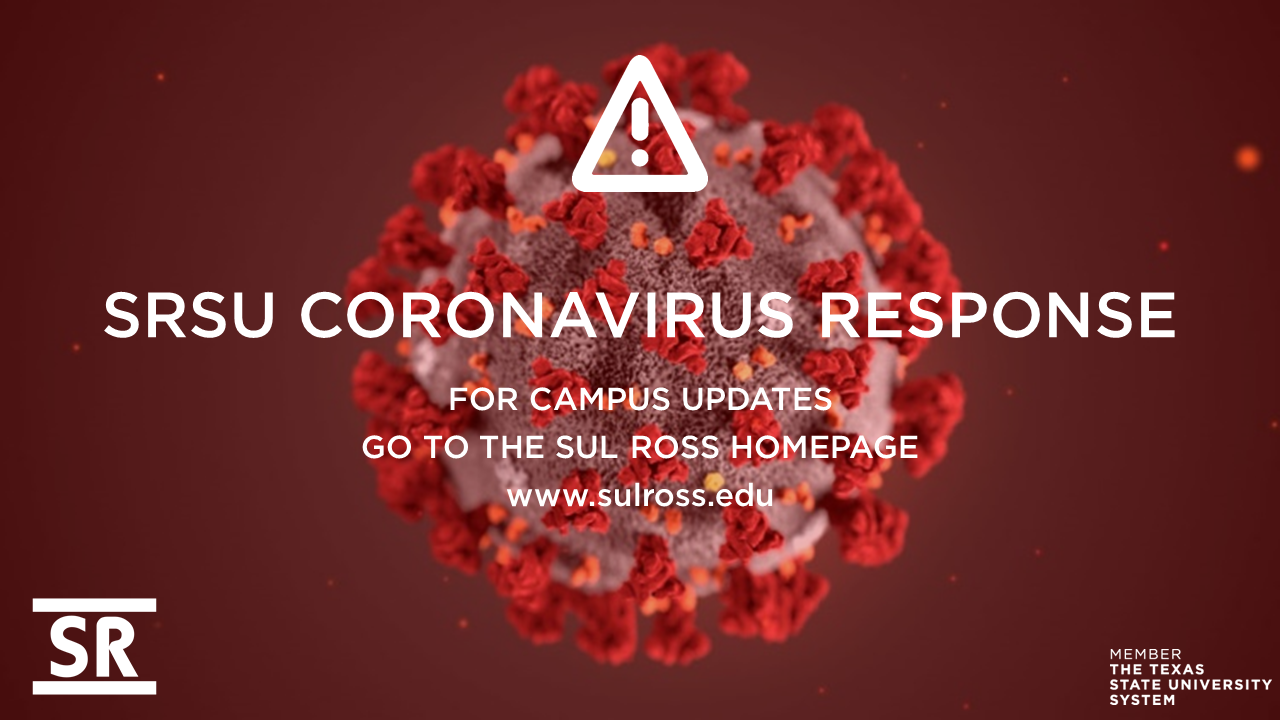 SRSU FAQ
Sul Ross State University continues to monitor the Coronavirus (COVID-19) situation.  The overwhelming consensus from medical experts, government officials, and health care professionals indicates that the circumstances change rapidly and requires purposeful action to promote social distancing.
Sul Ross will maintain this page to answer frequently asked questions and provide the most up-to-date information and guidance.
University business must continue as we still have essential tasks to complete.  Supervisors should be flexible with work schedules and leave for the remainder of the 2020 spring semester and practice social distancing within offices.  The University is closed to the public beginning March 17 but will still allow some employees to work on campus to ensure access to necessary equipment and technology.  All University buildings are closed to the public and only authorized personnel will have access. Supervisors will analyze job functions to determine whether some jobs may be performed remotely. For offices whose staff are working remotely, please make sure to forward your office calls to the appropriate cell number or plan to check your messages frequently.
The following are frequently asked questions from faculty, staff, and students.  If you have additional questions specific to your department or division, please contact your supervisor or division head.
If you have a question about SRSU's response to the COVID-19 outbreak, we want to hear them.  You can submit your questions through this form:

FAQ
What is the current schedule for reopening Sul Ross?
abrautigam
2020-05-06T21:35:10+00:00
Phase I – Sul Ross will remain under Emergency Operations until May 30. This will include building closures to the public, remote work and flexible schedules for employees, and continued social distancing protocols. Other than essential employees, all Sul Ross faculty and staff should continue to work remotely, for now. During this extended closure, divisions heads and supervisors will work on plans to bring employees back to campus.
Phase II – Emergency Operations will end on June 1 and the University will initiate a return-to-campus process. At this time, employees not approved for working remotely will begin to physically return to campus for regular business operations. Employees working under a telecommute agreement may continue to work remotely unless otherwise instructed by supervisors. Some university buildings will be open to the public or will allow for authorized visitors only. Offices will limit the number of visitors permitted, to practice social distancing. Division heads and supervisors will develop protocols that address the number of visitors that offices may safely admit.
Phase III – On July 1, the University will enter its final phase and will begin "normal" operations. All buildings will be open to the public and the majority of university employees will return to campus for regular business operations. Division heads and supervisors will remain in close contact to monitor safe working conditions.