Dream Mural Nomination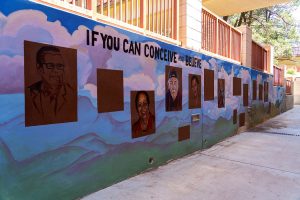 In the recent report, Diversity and Inclusion, the SRSU Coordinator of Diversity, Equity, and Inclusion cited the need for creating spaces on campus to promote cultural familiarity. The mural, Living the Dream – Cultural Pride on Campus, is a response to that report. This mural depicts historical images of remarkable Texans of Hispanic descent who have achieved their dreams. The mural is intended to inspire the community and Sul Ross State University students, many of whom are first generation college students, to believe in themselves and make a difference. The mural is our way to preserve and share the unique culture and history of our local community and our own Sul Ross State University graduates.
Sul Ross State University received a grant from Union Pacific to add a second mural to the Living the Dream mural outside of the Gallego Center. This mural will continue to focus on regional leaders of Hispanic descent. The Mural Group is reaching out the southwest Texas communities to nominate someone to be featured in a portrait in the second mural. Please use this nomination to recommend someone who should be added to the "Living the Dream" mural.
Please submit your nominations to by November 24, 2021
For consideration, your nominee(s) should meet the following criteria:
Affiliation with Sul Ross State University and/or the Big Bend, Rio Grande Valley, or greater Texas
Of Hispanic, Latiño/a/x, or multicultural descent
Obstacles Overcome
Contributions to community, culture, and/or historical legacy