The Texas Higher Education Coordinating Board has created the marketable skills initiative to help assure that college graduates master the content of their majors; while acquiring marketable skills for the workplace.
Marketable Skills Program List
Marketable Skills Advisory Committee:
Rocio Aguado, SRSU Director of Career and Services Center                                                 Sally Roche, SRSU English Professor (Del Rio   
Rick Flores, CEO Big Bend Medical Center                                                                                 Jeanne Qvarnstrom, Assistant Vice President for Institutional Effectiveness
Jenny Moore, Director Chinati Foundation                                                                               Mark Saka, SRSU Behavioral & Social Sciences
Lisa Gordon, Director for Chihuahuan Desert Nature Center                                                Chani Spear, SRSU Student
George Johnson, Alpine Community Member                                                                          Kathy Stein, SRSU President for Faculty Assembly
Jennifer Miller, SRSU Education Chair and Professor                                                               Ginger Turner, Broker and Owner of Mtn. View Properties
Committee members are available to support departments with the marketable skills requirement.
The Office of Institutional Effectiveness works with faculty who will be identifying those marketable skills during the 2019 Fall Semester for implementation in Spring Semester, 2020. In each following year, the marketable skills will be reviewed to stay current.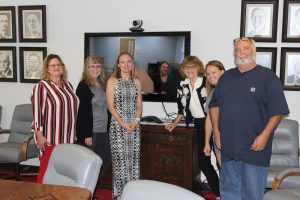 Committee members gain content knowledge and marketable skills.