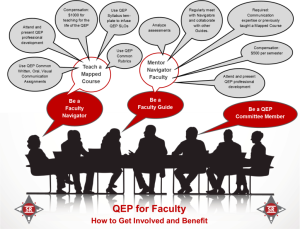 QEP PROFESSIONAL DEVELOPMENT
Curious how your teaching can benefit from the QEP?
The QEP will provide in person, online, conference funding, and group learning opportunities for faculty, as well as archive past training here.
Do you have a great idea for a faculty development session or a student event? Submit your ideas here.
BE A NAVIGATOR AND TEACH A QEP MAPPED COURSE
Interested in teaching a QEP communication-infused course?
Find out what it means to be a Navigator faculty teaching a Mapped Course here.
BE A QEP FACULTY GUIDE
Have you previously taught a QEP Mapped Course or do you have expertise in teaching communication skills?
Sign on to be a Faculty Guide and mentor others teaching here.