SRSU Mission Statement
Who We Are
Sul Ross State University is a public, comprehensive, Master's degree granting, multi-campus university, providing on-site and distance education in the Big Bend and US-México border regions of Texas.
Vision
Sul Ross State University seeks to be a national and international leader in achieving excellence among universities in the areas of Education, Research, Social Mobility, Service, Affordability, and Shared Governance.
Mission
Rooted in the distinctive surroundings and history of the Big Bend and the US-México border regions of Texas, Sul Ross State University provides accessible, comprehensive, and life changing education through high quality teaching, research, cultural awareness, creativity and service.
Values
Excellence
Ethics and Integrity
Diversity and Inclusiveness
Growth and Exploration

Leadership and Service
Personal Connection
Effective Communication
---
Goals
SRSU Strategic Plan
Sul Ross State University's SRSU Strategic Plan 2017-2022 is guided by five overarching goals:
Goal 1: Promote Growth in Academic, Research and Artistic Excellence
Goal 2: Target Recruiting, Maximize Retention & Increase Graduation Rates
Goal 3: Strengthen a Sustainable and Diversified Financial Base while Ensuring Affordable Access
Goal 4: Recruit, Retain and Develop Faculty, Staff and Student Employees
Goal 5: Unify and Enhance the Image and Visibilty of Sul Ross
Texas State University System 2020 Performance Goals
The Texas State University System (TSUS) Chancellor, Brian McCall, presented a long-term vision and called upon all TSUS institutions to identify baseline data and to establish targets for year 2020 as comprehensive vision of success. SRSU collects and reports data annually. The 2020 TSUS Performance Metrics reports includes a collection of indicators related to access, success, excellence and efficiency. Some of the highlight targets by year 2020 include:
Total headcount increase of 9% (2,144 students)
Total degrees awarded increase of 21% (464 degrees)
6-year graduation rate increase of 11.5 percentage points
1-year persistence rate increase of 3 percentage points
Number of Teachers Produced 196% (80 Teachers)
Texas Higher Education Coordinating Board 60x30TX Goals
The Texas Higher Education Coordinating Board (THECB) also sets statewide goals through the 60x30TX initiative. The THECB plan includes four major goals:
Goal 1: 60×30: Educated Population
By 2030, at least 60% of Texans ages 25-34 will have a certificate or degree
Goal 2: Completion
By 2030, at least 550,000 students in that year will complete a certificate, associate, bachelor's, or master's from an institution of higher education in Texas.
Goal 3: Marketable Skills
By 2030, all graduates from Texas public institutions of higher education will have completed programs with identified marketable skills.
Goal 4: Student Debt
By 2030, undergraduate student loan debt will not exceed 60% of first-year wages for graduates of Texas public institutions.
---
Student Achievement Highlights
To evaluate student achievement, Sul Ross State University reviews graduate school placement, job placement, licensure/certification passage, student learning, graduation rates, retention rates, and course completion rates.
Graduation and Retention Rates
The first indicator of student achievement is student persistence and graduation. In 2016, the 6-year graduation rate for first-time-in-college students at Sul Ross was 29.4%, according to the Texas Higher Education Coordinating Board (THECB) Online Institutional Resume. This represents a 5.3 percentage point increase over graduation rates in 2000. Additionally, in 2016, the 1-year persistence rate was 73.8% (for students entering in Fall 2015); the 2-year persistence rate was 64.0% (for students entering in Fall 2014), according to the THECB Online Institutional Resume.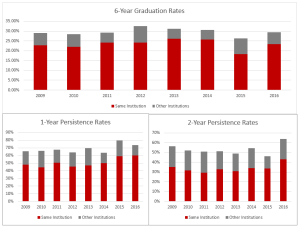 Data Sources: THECB Accountability System and THECB Online Institutional Resumes.
Student Achievement Measure
Another measure used to assess student performance is the Student Achievement Measure (SAM).  SAM presents a more comprehensive perspective on student achievement.  SAM tracks students who transfer from the university and follows the students as they progress through other institutions of higher education. The data provides a more complete picture of a university's role in furthering a student's educational achievements.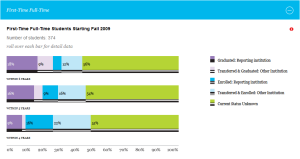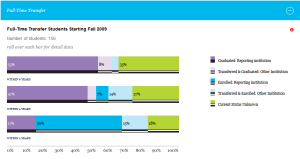 Data Source: Student Achievement Measure, Sul Ross State University Profile
Graduate School Placement Rates
Another key indicator of student success at SRSU is whether baccalaureate graduates enroll in graduate-level programs or professional schools. In the 2016 THECB Accountability Reports, 16% of baccalaureate graduates from SRSU-Alpine and 3% of graduates from SRSU-Rio Grande College were enrolled in graduate or professional school programs in Texas by the year after graduation.

Data Source: THECB Online Institutional Resumes.
Job Placement Rates
Also, an important indicator of student success at SRSU is whether graduates find employment after graduation. In 2016, 75% of graduates from SRSU-Alpine and 85% of graduates from SRSU-Rio Grande College had achieved gainful employment during the fourth quarter of the year after graduation.

Data Source: THECB Online Institutional Resumes.
Teacher Certification
Texas Examinations of Educator Standards (TExES)
Selection Rationale:  Sul Ross State University was established in 1917 as a teacher's college to prepare teachers for the public school teaching in the remote area of West Texas.  For over one-hundred years, SRSU has continued that tradition.  Teacher Certification data is a central part of the Student Achievement report, because local school districts continue to depend upon the university to provide teachers for the children of our surrounding communities.
Target:  The Texas Education Agency set the target at 80% for all Education Preparation Programs (EPP).
Assessment:  Passing rates have fluctuated at all campuses over the seven years reported cycle.  Recent interventions to increase the number of students meeting the target (80%) include offering content exam study sessions for students to prepare for the TExES.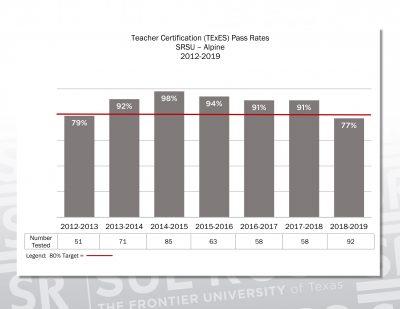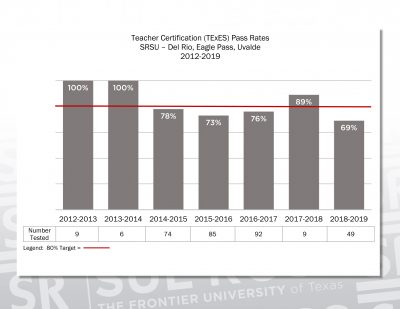 Data Source: Texas Education Agency – Accountability System for Educator Preparation  (ASEP)
---
Student Support Programs
Academic programs, committees, and student services at SRSU also set specific goals related to student achievement. For example, programs like Student Support Services and the McNair Scholars Program set targets for retention rates, graduation rates, and graduate school placement rates for students who participate in their programs.
Academic Center for Excellence
In 2004, the university opened the Academic Center for Excellence (ACE), which offers numerous academic support programs such as study skills workshops, tutoring, and services targeting specific student populations. For example, ACE supports athlete students by providing study halls. The center's faculty members teach developmental education courses in reading, writing, and mathematics focused on low performing and at-risk students. Most recent data, for summer session II in 2016, show a success rate of 70 percent for students enrolled in the ACE developmental courses. The target for success for the ACE Developmental Course is 70 percent or more of the students passing the developmental courses with letter grade of C or better.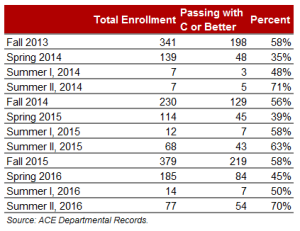 Academically talented students seeking an academic challenge may participate in the SRSU Honors Program through the ACE. Records beginning in 2011 track the number of SRSU students involved in honor contracts with faculty in the university. Over these 11 terms, 88% of the students attempting honors work completed it successfully.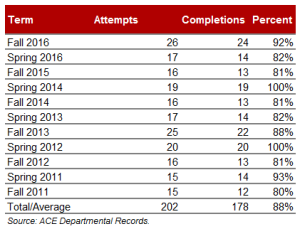 McNair Program
The McNair Scholar Program is designed to support and encourage first-generation, low-income and under-represented undergraduates to consider careers in college teaching as well as prepare for doctoral study. Students who participate are provided research opportunities and faculty mentors. A national program offered at numerous universities throughout the United States, The Ronald E. McNair Post-baccalaureate Achievement Program was named in honor of the astronaut who died in the 1986 space-shuttle explosion. Established at Sul Ross in November 2007, the McNair Scholars Program is funded through the Department of Education's TRIO programs and has successfully provided students with the academic skills required for acceptance and retention in graduate school. This year the SRSU McNair Scholars Program has been awarded funding for the next five years (2017-2022).
The program serves 27 students each year. Student achievement measures for the SRSU McNair program for 2015-2016 include:
93% of McNair scholars completed research and/or scholarly activities
55% of McNair scholars who received their bachelors degree enrolled in graduate school in Fall 2016.
82% of McNair scholars enrolled in graduate school in 2015-2016 persisted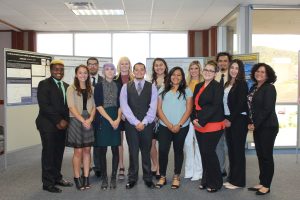 2017 McNair-Tafoya Symposium Paticipants (Front row left to right Ronald Clark, Olivia Enriquez, Miranda Gilbert, Vince Apodaca, Yelixza Avila, Tiffany Buford Vallejo, Linda Padilla Cruz, Fabiola Muniz. Back row left to right Joey Chavez, Breeann Sturges, Katherine Mancha, Stephanie Elmore, Dominic Carrillo)
Some important initiatives the SRSU McNair Program sponsors are:
the annual McNair-Tafoya Symposium which gives McNair scholars an opportunity to present their research at SRSU
STEM Fridays – a co-sponsored event with the SRSU Library and academic departments to showcase STEM opportunities on the SRSU campus
Conference participation – the SRSU McNair Program supports students as they present their research in professional conferences across the country.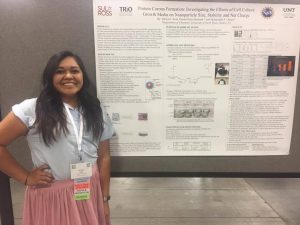 Senior Yelixza Avila at SACNAS in Salt Lake City, Utah
Student Support Services
Student Support Services (SSS) works to increase academic performance, retention and graduation rates, through academic advising, career/major counseling, personal support, classroom instruction, academic workshops, tutoring, financial aid counseling, graduate admission guidance and social/cultural activities. On average, 160 undergraduate students participate in SSS programs. For example, SSS participants graduate at twice the rate of the SRSU average.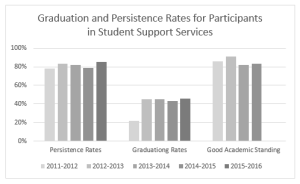 Data Source: SSS Departmental Records.
---
National Survey of Student Engagement
Starting in spring 2016, the National Survey of Student Engagement was administered to all students in the core curriculum courses and to seniors. The faculty Core Curriculum Committee set the threshold for achievement for seniors, who respond 'very much' or 'quite a bit', for items aligned with each of the six core curriculum skills, to increase each year or maintain at 75% or higher. Baseline data for the six core curriculum skills: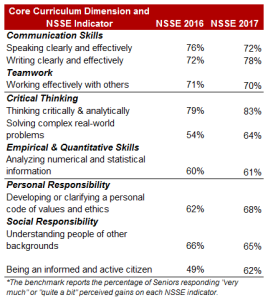 Data Source: NSSE Survey Reports, 2016, 2017.
---
Process for Evaluating Measures of Student Success
Sul Ross State University evaluates measures of student achievement in response to SACSCOC Standard FR 4.1. Additional data related to student achievement is available through the webpage for the SRSU Office of Institutional Effectiveness.
---